Aarhus University's main campus is located in central Aarhus, and BiRC is based in building 1110, C. F. Møllers Alle 8, where the centre occupies the 3rd and 4th floors.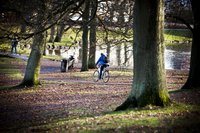 Denmark is well-connected to the rest of Scandinavia and Continental Europe, and you can reach Aarhus by plane, bus, train, ferry or car.
How to reach Aarhus and BiRC
By plane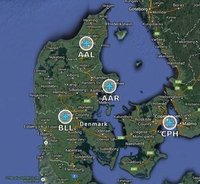 The major airports in Denmark: Aarhus Airport (AAR), Billund Airport (BLL), Copenhagen Airport (CPH), and Aalborg Airport (AAL)
Aarhus is based in the middle of Denmark and may be reached by flying to one of the following airports:
Aarhus airport (AAR) is the airport closest to Aarhus, with a travel time of 45 min with the airport bus to Aarhus (link to AAR airport bus). The airport bus is timed for each arrival/departure. The bus ride takes approx. 50 minutes, and a one-way ticket costs approx. 120 DKK. Aarhus airport has several daily departures between Copenhagen, and connections to major cities in Europe.
Billund Airport is located 100 km south-west of Aarhus, with a travel time of around 1h15min by airport bus or taxi to Aarhus (link to BLL airport bus). Tickets are sold on the bus (all major currencies and credit cards are accepted).
Copenhagen Airport (named Kastrup Airport (CPH)) is the largest airport in Denmark. It is located just outside Copenhagen, the capital of Denamrk, and Aarhus is reachable by flight to AAR or by train directly from CPH airport to Aarhus main railway station. The train ride takes approx. 31 hours and costs 404 DKK (incl. a seat reservation).
If you ned to move between terminals, you can hop on the shuttle bus. It is free and leaves every 15 minutes.
Aalborg Airport (AAL) , which is the third largest airport in Denmark, can also be useful in some cases.
Please note that it may be more convenient or cheaper to go through Copenhagen or through Germany.
By train
Travelling to Aarhus by train is convenient, with the main railway station centrally located in Aarhus, and direct trains from Copenhagen arriving every hour.
Travel time from Copenhagen (and Copenhagen airport) to Aarhus by train is around 3h20min. Tickets can be bought via DSB's website or at the railway station.
The distance from the main railway station in Aarhus to BiRC is around 2.5 km and takes around 20 min by bus, 5 min by taxi, and the walk to BiRC will take around 35 min.